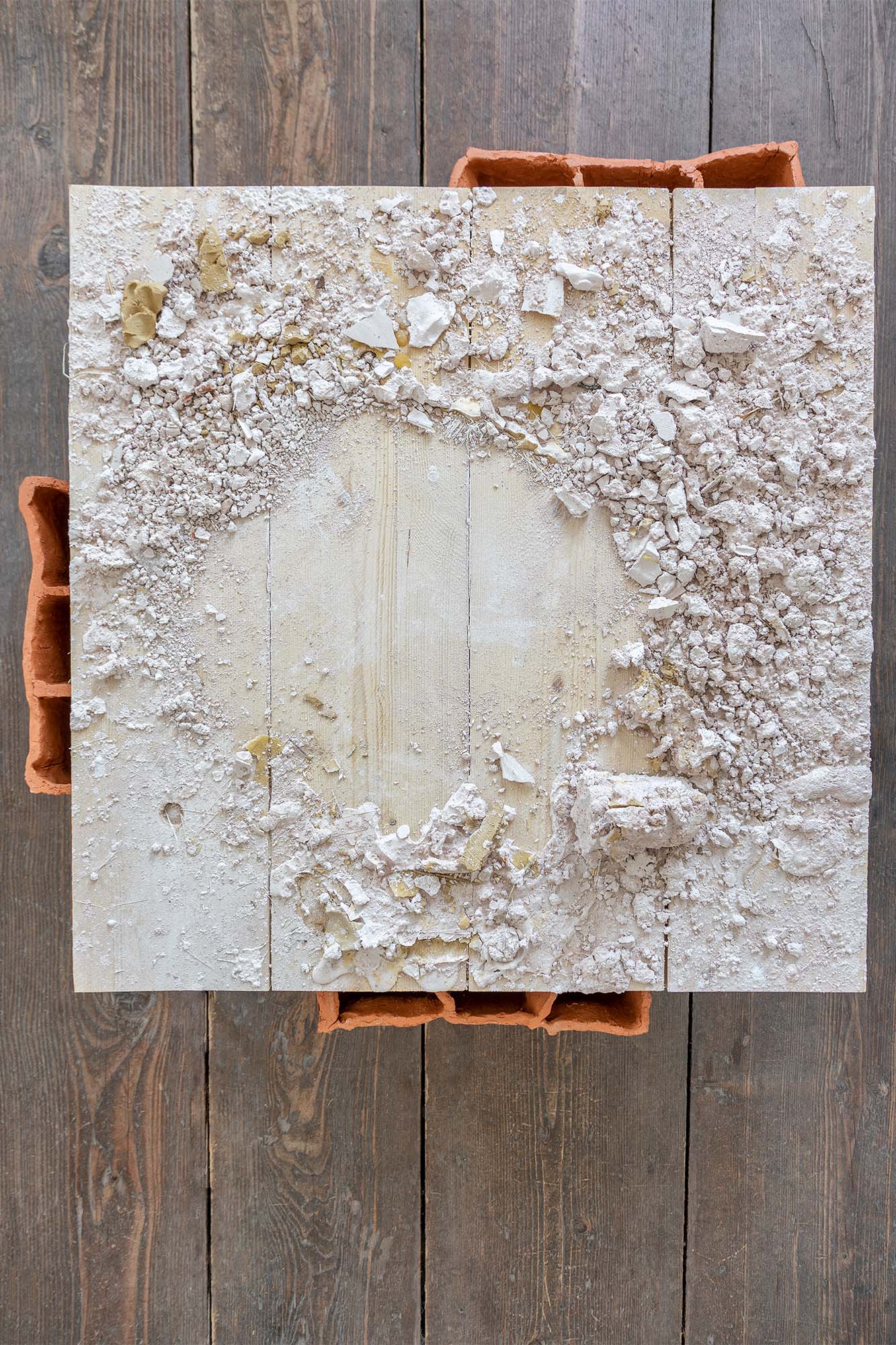 DER
RUF -
Eine
Liebeserklärung
an
das
Relief
The Call - A Love letter to the relief
groupshow
9.7. – 30.09.2023
NKVM Neuer Kunstverein Mittelrhein
Eröffnung: 08. Juli / Sayner Hütte 18 Uhr / NKVM, Rasselstein 20 Uhr
09 Juli - 30 September 2023
mit Arbeiten von Aline Bouvy, Zuzanna Czebatul, Lena Marie Emrich, Cornelia Herfurtner, Nadira Hussain, Alfons Knogl, Vera Kox, Keto Logua, Martin Maeller, Claudia Mann, Markues & Lukas Schmenger
Der Neue Kunstverein Mittelrhein möchte mit dieser international besetzten Gruppenausstellung ein besonderes Augenmerk auf das Relief werfen. Hier sollen anhand exemplarischer Arbeiten die neuen technischen wie konzeptuellen Möglichkeiten und Themen dieser plastischen Arbeiten aufgearbeitet werden. Mit jungen Künstler:innen wie Vera Cox, Lena Marie Emrich oder Cornelia Herfutner haben sich besonders Frauen in den letzten Jahren dem Thema des Reliefs gewidmet. Herfurtner sieht in dem Relief ein feministisches Statement. Ein Stillleben, das repressive Gewalt und Aufstand dokumentiert. Emrich dagegen nutzt Fotos als Grundlage ihrer Reliefs: Eine Frau in Yogapose, Alltagsszenen. Die in Acrylsteinplatten gefrästen Bilder verhalten sich konträr zum verwendeten Material. Sie könnten wie alte Steintafeln ewig halten, wohingegen die Abbildung flüchtige Momente zeigen.
Lukas Schmenger, der sich ebenfalls seit vielen Jahren im Relief bewegt, nutzt sein eigenes Antlitz, um immer wieder das eigene Portrait zu verhandeln.
Die teilweise neu produzierten Werke aus Aluminium und Epoxidharz sollen in einem speziellen architektonischen Display präsentiert werden. Die Künstler:innen thematisieren die klassische Ausdrucksform zwischen Skulptur und Architektur vor dem Hintergrund aktueller Fragestellungen von Figur und Objekt.
Die Ausstellung wird in zwei Teilen präsentiert, dem Außenraum der Sayner Hütte und auf dem Rasselstein Areal des NKVM in Neuwied und verknüpft auf diese Weise diese beiden historischen Orte miteinander.
Kuratiert von Patrick C. Haas
english
THE CALL - A love letter to the relief
Opening: 08 July / Sayner Hütte 6 pm / NKVM, Rasselstein 8 pm
09 July - 30 September 2023
with works by Aline Bouvy, Zuzanna Czebatul, Lena Marie Emrich, Cornelia Herfurtner, Nadira Hussain, Alfons Knogl, Vera Kox, Keto Logua, Martin Maeller, Claudia Mann, Markues & Lukas Schmenger
With this international group exhibition "The Call", the Neue Kunstverein Mittelrhein will be focusing its attention on the relief. By means of exemplary works, the new technical as well as conceptual possibilities and themes of these sculptural works will be explored. With young artists such as Vera Cox, Lena Marie Emrich and Cornelia Herfutner, women in particular have dedicated themselves to the subject of relief in recent years. Herfurtner sees the relief as a feminist statement. A still life that documents repressive violence and uprising. Emrich, on the other hand, uses photographs as the basis for her reliefs: a woman in a yoga pose, everyday scenes. The images milled into acrylic stone slabs behave contrary to the material used. Like old stone tablets, they could last forever, whereas the illustration shows fleeting moments.
Lukas Schmenger, who has also been working in relief for many years, uses his own likeness to repeatedly negotiate his own portrait.
The works, some of which are newly produced from aluminum and epoxy resin, will be presented in a special architectural display. The artist:s address the classical form of expression between sculpture and architecture against the background of current issues of figure and object.
The exhibition will be presented in two parts, the outdoor space of the Sayner Hütte and on the Rasselstein Areal of the NKVM in Neuwied, thus linking these two historical sites.
curated by Patrick C. Haas